Rss
The Red Wings and Blue Jackets squared off at Little Caesars Arena last night. As it has gone all season, things didn't go Detroit's way. While Adam Erne scoring his first two goals as a Red Wing was a fun story, it wasn't good enough to outscore Columbus, who went on to win the game 5-3.
As a whole, the Red Wings were lucky to have the score anywhere close. By the end of the second period they were being out shot 27-10. Poor goaltending on Columbus' part kept this one more entertaining than it was, but process wise, this wasn't good enough.
Thoughts and Highlights
Erne's first goal came off a pretty sweet passing exchange early in the game. A tic-tac-toe play between Erne and Frans Nielsen set up the one-time blast for Erne. 1-0 Detroit.
Erne gets his first as a Red Wing. Sweet pass by Nielsen. #LGRW pic.twitter.com/Ti3fezwPLq

— Tom Mitsos (@tom_mitsos) December 18, 2019
Former Red Wing Gustav Nyquist returned with his new team. Nyquist had a terrific game, scoring a goal and an assist. A nice moment came in the first period with a tribute video honoring "Goose." In 481 games spread across eight seasons, Nyquist scored 125 goals and 295 points while wearing the Winged Wheel.
#RedWings welcome back #CBJ forward Gustav Nyquist and it looked like Nyquist was a little emotional. pic.twitter.com/itUrjGzq29

— Dana Wakiji (@Dwakiji) December 18, 2019
Erne found the back of the net once again. Crashing the net side, a juicy rebound bounced out and gave Erne an empty-net to tie the game at two.
Right place, right time for Erne. #LGRW pic.twitter.com/BQYpSOUyJT

— Tom Mitsos (@tom_mitsos) December 18, 2019
The third and final goal caused some confusion at first. Initially looking like Filip Hronek's shot redirected off a Blue Jacket, it turned out to be Tyler Bertuzzi getting a piece of the puck for his 12th goal of the season.
Hronek has been credited with the goal, but it should go to Bertuzzi. #LGRW pic.twitter.com/HQKHjrxb7L

— Tom Mitsos (@tom_mitsos) December 18, 2019
Gif of the Game
"Don't cry because it's over, smile because it happened." -Dr. Seuss. Once a Red Wing, always a Red Wing.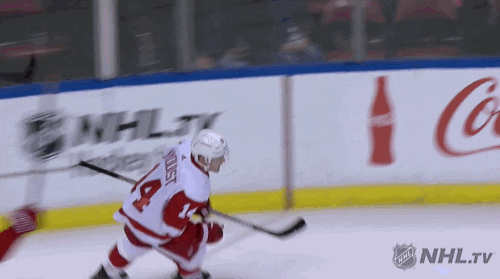 Motor City MVP
Adam Erne
This is a pretty easy one. Erne converted twice, finally getting some puck luck to go his way. He also generated four shots on goal and three hits with 13:38 minutes of time on ice. Hopefully this will be a turning point for the first year Red Wing.