Rss
Facing the last game before the holiday break, Detroit desperately needed to go into the week on a positive note and turn the page from the dramatics that transpired yesterday at the end of the loss in Toronto. Without Mantha, that task became significantly harder against one of the top teams in the West.
The Pacific leading Coyotes successfully managed to secure 2 points in a tight race in their division, with Clayton Keller and Oliver Ekman-Larsson both having 3 point nights in another unfortunately familiar 5 goal loss for the Wings.
Thoughts and Highlights 
I though Detroit had a fairly decent start but it was soon spoiled by Keller opening the scoring. A broken play and poor coverage left the net practically empty for the 21 year old.
Clayton Keller
1-0 #Yotes pic.twitter.com/DJcZMnHLAw

— Here's Your Replay (@HeresYourReplay) December 23, 2019
Only a few minutes later, Keller rips the puck past Howard, quickly putting the Yotes up 2-0 with Schmaltz and Ekman-Larsson earning assists on both goals.
Jimmy Howard, after missing the past 10 games from a groin injury, didn't look that sharp to start the second as the puck bounces off of Soderberg and Howard's inability to control the puck makes it a 3-0 game. The second period continued to be quite ugly as Detroit seemed to be unorganized with incomplete passes, turnovers, and little chemistry.
Taylor Hall with a perfect shot on a delayed penalty kill in the third marks his first goal with Arizona and the fifth Yotes goal came from Dvorak, his 100th career NHL point.
Detroit had a lot of chances they were unable to capitalize on as well as going 0-3 on the power play. Antti Raanta was not tested enough to make a difference, with too many turnovers from the Wings to generate any consistent zone time.
The only saving graces in this game were Zadina's 3rd goal of the season in-between Hall and Dvorak scoring and Bertuzzi lifting the spirits slightly with 5 minutes left, potting his 14th goal of the year.
Zadina with the fake slapper before burying the goal five-hole to put the #RedWings on the board! Something to cheer for – a Christmas miracle. #LGRW pic.twitter.com/T0Y0W7jdmf

— Ryan Hana (@RyanHanaWWP) December 23, 2019
Bertuzzi buries the loose puck out front – continues as the #RedWings leading point scorer. #LGRW pic.twitter.com/nY3ab25zra

— Ryan Hana (@RyanHanaWWP) December 23, 2019
Gif of the Game 
When you're trying to enjoy the Christmas season but the Wings keep putting themselves on the naughty list.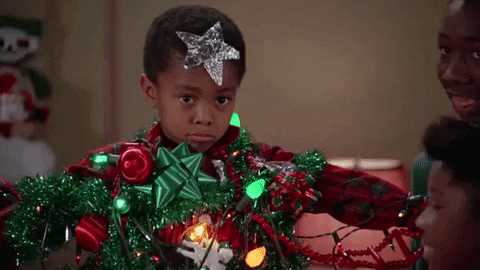 Motor City MVP
There was a proposal during the second period and I'm only half joking when I say this title should belong to them tonight. However, Bertuzzi's goal was a dandy as he showed off some puck retrieving skills in the process of taking the team lead for goals.