Rss
Following back to back wins at home against Montreal and Ottawa, Detroit's start to the first and third periods kept them from continuing any win streak. Trying to keep Buffalo outside of the playoff conversation after a 6-3 loss to Vancouver yesterday, it was their depth scoring that shined in this one.
Thoughts and Highlights 
For most of the first period, Detroit seemed like they didn't even want to start or play the game. Within the first 5 minutes Buffalo had already gone up 2-0 from 2 quick goals from Evan Rodrigues.
After a bad hit on Larkin from Bogosian, the Wings fail to cut the lead on the man advantage, and instead give the third goal to Buffalo after Fabbri couldn't control the pass from Zadina and Girgensons scores on the breakaway.
Zadina with a bad pass that Fabbri can't corral, and Girgensons converts the shorthanded goal. #RedWings have allowed a league-worst 9 SHG this season. #LGRW #Sabres50 pic.twitter.com/aSxRxgShRa

— Ryan Hana (@RyanHanaWWP) January 12, 2020
The Wings started coming to life in the middle frame. Limiting Buffalo to just 3 shots, Detroit put up 11 of their own and had multiple high danger chances. Madison Bowey sets up a perfectly aimed wrister for the only goal of the period, his 13th point in 24 games.
Madison Bowey stays hot and rips home a wicked wrister to put the #RedWings on the board. #LGRW pic.twitter.com/YTx12AzWp7

— Ryan Hana (@RyanHanaWWP) January 12, 2020
Despite the improved effort, another set of early goals to start the third kill the comeback dream. Bogosian and Ristolainen at the 2:35 and 3:40 marks put the Sabres up 5-1, which is the final score of this one.
Detroit let this one get away from them early on. Without capitalizing on their second period chances and Jimmy Howard not playing to his expected potential, their first 5 goal loss of the new year is hard to blame on anyone else but their own efforts and a 0/3 power play.
Final shots are 27-22 Buffalo with their man advantage going 2/4 as well.
Gif of the Game
Watching the puck somehow defy the laws of gravity and not go over the goal line in another game.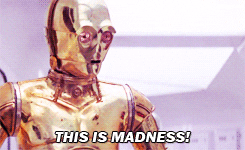 Motor City MVP
Like mentioned earlier, Bowey's goal was his 13th point in the past 24 games. An inconsistent season is the nicest way of putting his season this far, so to have some traction offensively is nice to see for him and his confidence. One of Detroit's RFAs this season, he needs to keep proving himself to the organization if he wants to keep himself in the lineup every night.